Power banks have become such an everyday item in the last 3-4 years, dropping rapidly in price, offering increased capacity and faster speeds, but they can still be so hit and miss.
Generally, there's things to love and hate about each of them, but that's absolutely not the case with the Anker 737 which goes above and beyond any other power bank that I've used.
The biggest difference with the 737 is the fact that it has an OLED display, which sounds over the top for a power bank, but it's actually incredibly useful for a number of reasons.
The first is that you can see exactly how much of the power bank is left down to the minutes on the power bank, based on the current wattage drain of the device connected, but equally, you can see how long to charge the device to 100%.
Secondly, for tech nerds, you can see the exact amount of wattage that each port is using, so rather than guessing whether a charger connected is using its full potential, or the cord you're using isn't rated to 100w, having the screen as well as the wattage used both on the downstream and upstream sides displayed really takes the guess work out of it.
There's also a secondary screen which shows you a bunch of useful stats such as the temperature, and how many cycles you've given the power bank. Temperature in particular is an important one as obviously charging at these speeds requires a good amount of safety.
This is just the beginning of what makes this power bank so great though. You've got 140w of juice to play with which for context, an iPhone 14 Pro will use about 20w whilst fast charging and a portable PC like the ASUS ROG Ally or AYANEO 2s will use 65w, so there's a lot of headroom for charging laptops of portable devices.
You've got two USB-C ports on offer which can each serve up 140w (when used individually) and a USB-C port on offer which can offer 18w separately.
As far as size and weight goes, it's a heftier unit, but not so much that you'd notice a big weight in a backpack. It has a 24,000 mAh capacity which was enough to fast charge iPhone 14 Pro to 80% (in 30 minutes) about 6-7 times before dying.
Charging the power bank up with a 100w USB-C charger took just over an hour, and I was seriously impressed with how quickly that percentage was going up. A 140w rated USB-C cord is included in the box, but in Australia, you'll struggle to find a 140w USB-C charger at this point.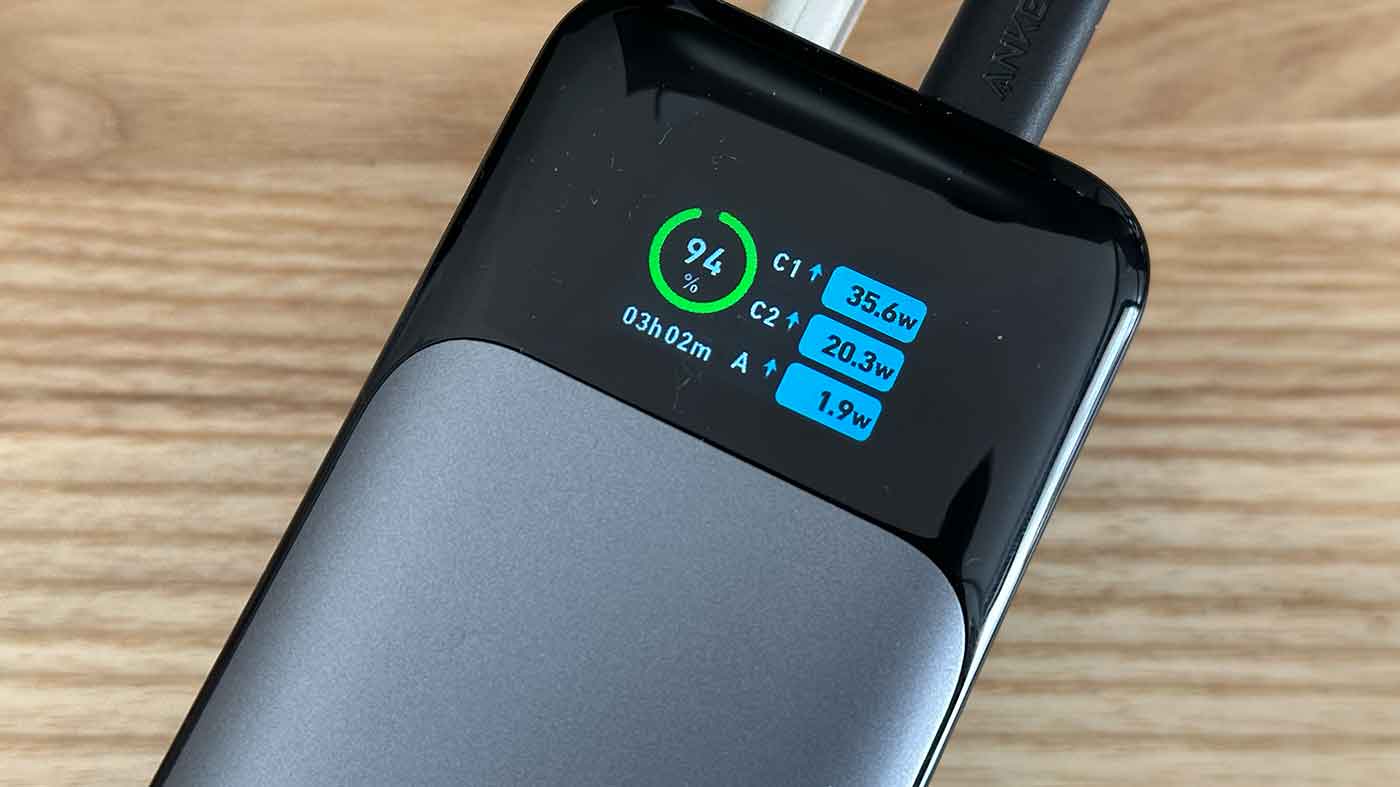 Anker does have 100w and 140w USB-C GaN chargers in other countries, but not in Australia (I'm assuming due to our strict safety requirements).
I did however use the Anker 735 GaN charger which also has 2 USB C ports and a USB-A port with a total output of 65w, and it's a great little charger for the size, which is far smaller than carrying Apple chargers of the same wattage.
CONCLUSION
The Anker 737 Power Bank is the best power bank that money can currently buy. It offers a whopping 140w input/output, has an OLED display that clearly gives you all the information required and is also rugged without being too heavy and big.
Loved
Huge 140w Input/Output
OLED Display Is Great
Rugged Yet Still Portable
Didn't Love
The Right Charger/Cord Required To Take Full Advantage For Each Device